Origins of the Moutan Botanical Centre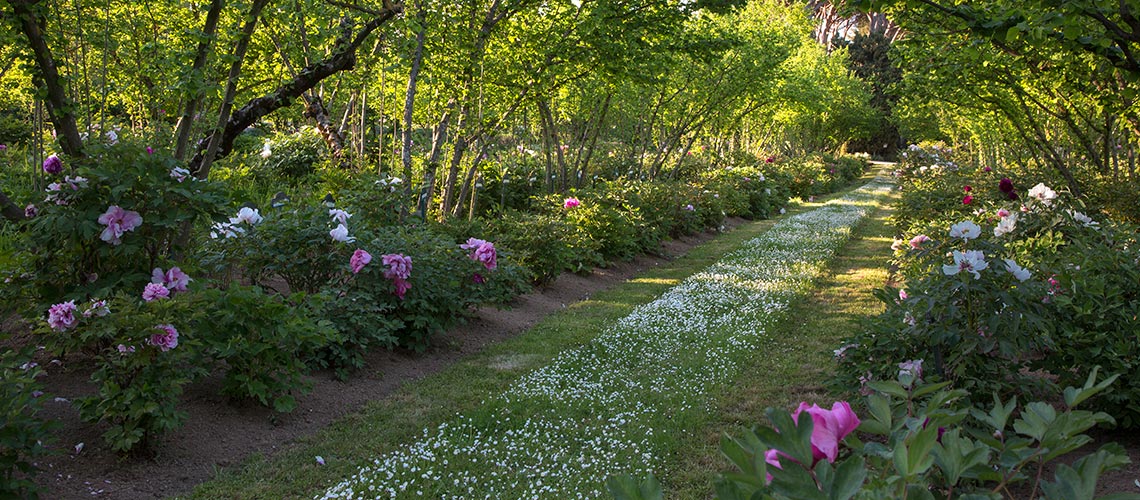 In the 1990s, Carlo Confidati, the Viterbo-born businessman and garden lover, first took interest in the fascinating world of peonies. His passion for gardening and the incredible history surrounding this rare flower prompted him to deepen his botanical knowledge.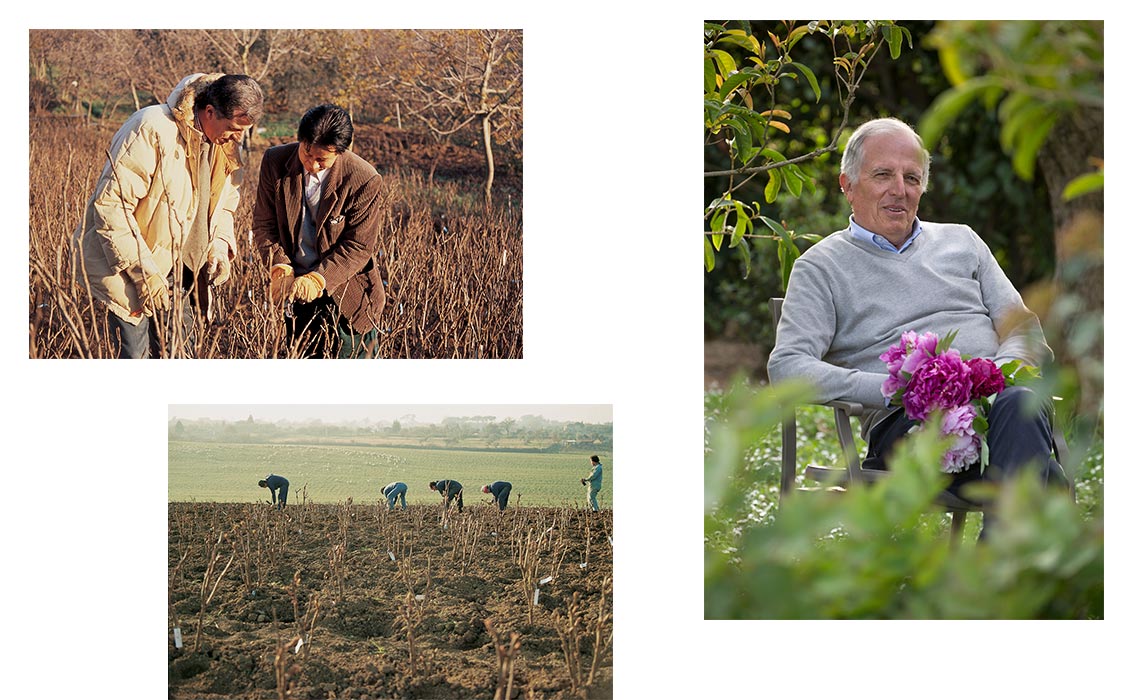 Painstaking research into their land of origin, through many of the provinces of China, enabled him over the years to discover countless varieties of tree and herbaceous peonies belonging to different species, each with their own very different characteristics.
Charmed by the beauty and rarity of these flowers, he imported some varieties to Italy and attempted an initial plantation on a hilly area at the foot of the Cimini mountains. The extraordinary spectacle of flowering deeply fascinated him and prompted him to create a place exclusively devoted to the study and cultivation of these plants, namely the Centro Botanico Moutan (from the Chinese term "Mu Dan", tree peony), a single-theme garden which today contains the rarest and largest collection of tree and herbaceous peonies in the world.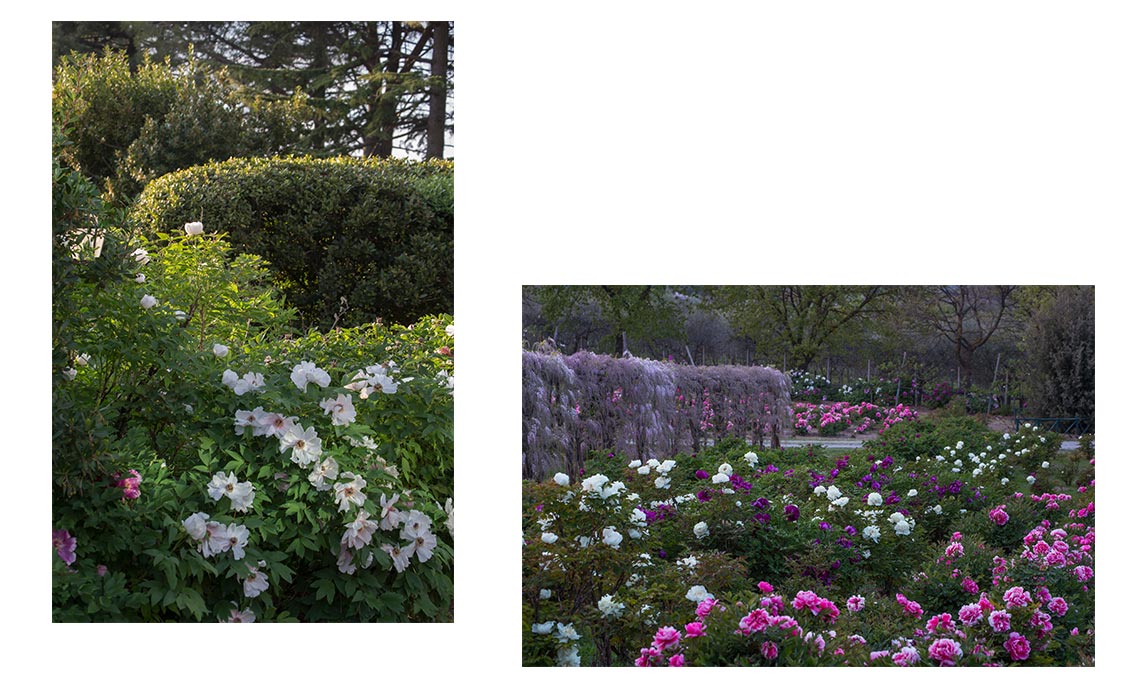 The tree peony is considered the national flower of China and its spread to our continent can be traced back to records from 1656, when a member of the Dutch East India Company described it as a plant with "flowers like roses, but without thorns and with blooms twice as big".
Before arriving to the West, news of their existence and beauty had spread only through the importation of porcelain, silk and Chinese objects on which they were depicted.
The mystery, allure and legends associated with these plants are also expressed in the beautiful names that classify each variety and which still evoke the feelings they inspired in the Chinese gardeners who used to grow them. To mention but a few: Blue Phoenix with spread wings, Moon over Mount Kun Lun, Coral throne, Prosperity...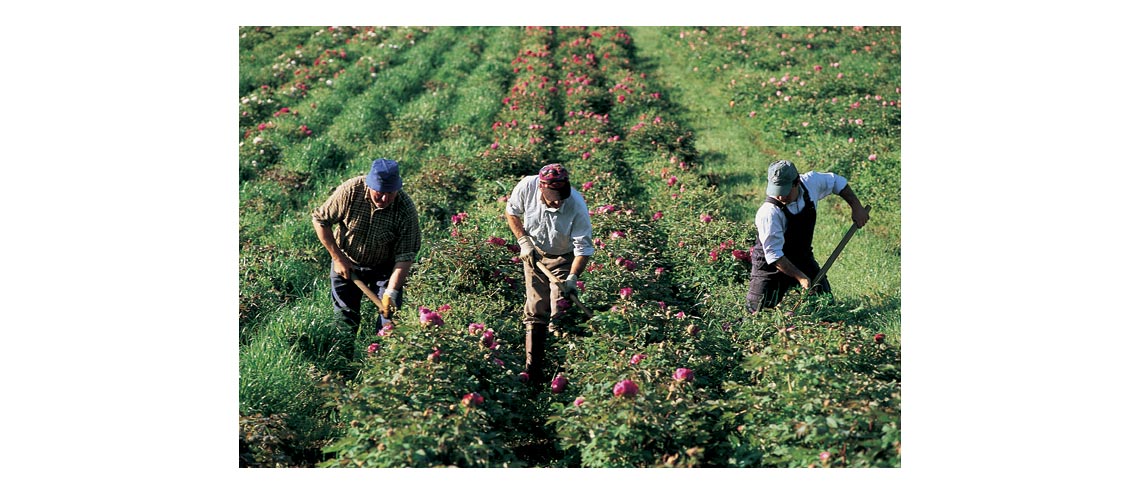 The Centre has been open to visitors since 2003 and offers striking garden areas where they can enjoy the colours and scents of nature. Inspired by the many colours of the peonies is the Colour cafè, an elegant yet informal "garden restaurant" with a warm yet sophisticated atmosphere.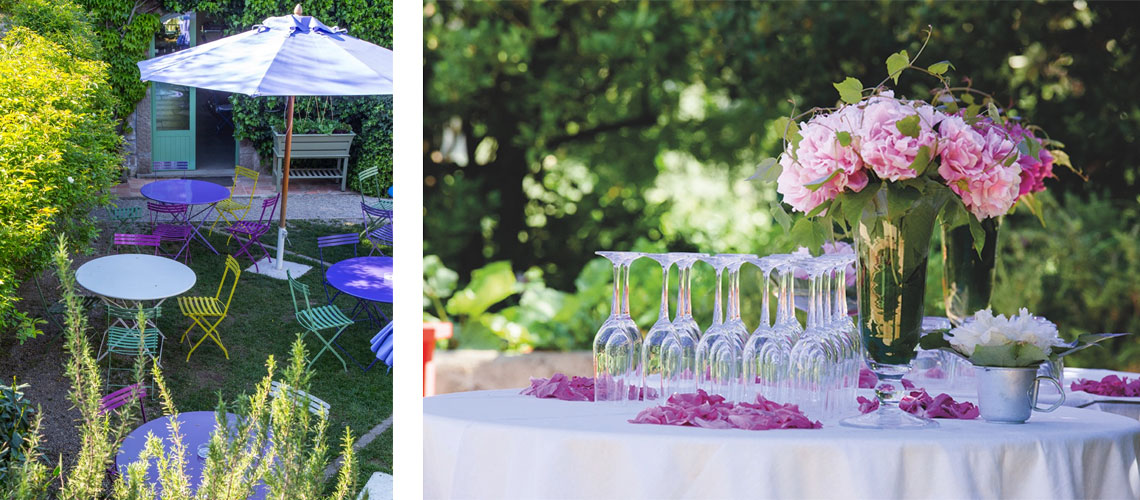 Every year, the Moutan Botanical Centre receives thousands of visitors, plant experts or just gardening fans who come to witness flowering time. The uniqueness and value of the specimens at the park, have made the Moutan Botanical Centre a reference point for leading landscape architects coming here from all over Europe to gain inspiration for their projects.
We are proud to quote an article written by the friend Architect Paolo Pejrone,for the Italian magazine "Gardenia", that very well narrates the story of the origins of the collection and the experience of the many years dedicated to this passion.
"It was in the seventies, in Padua at the Flormart Fair, during one of the first editions of what would have been for many years, along with Euroflora, the only important and valuable garden exhibition in Italy.
That's where I met Carlo Confidati: with quite some enthusiasm and intelligence, he was presenting his small greenhouse, the famous "Susi, la serra milleusi" (Susi, the multi-purpose greenhouse), a very well designed and pleasant item. As a member of the jury I easily, and with appreciation, got it rewarded.
A few years later Carlo Confidati began the great and brilliant adventure of Unopiù, which from the province of Viterbo spread all over Italy, Europe and beyond. It basically overturned a world, the world of garden furniture, which until then had substantially remained uncovered.
Back then, most of the garden amateurs looked overseas or even just beyond the Alps, in some historical gardens that had survived the glories of the past, jacketed year after year, as best as one could, otherwise very heterogeneous and improvised sets prevailed, and they were made of old recoveries, of unlikely fantasies and uncomfortable seating.
Unopiù was a very special phenomenon, which has been able to meet the needs of second homes, terraces and verandas with beautiful and very linear furniture (although not inexpensive...) and was also able to meet the needs of that peculiar period of economic and architectural boom. An experience that, at the height of its success, twenty-five years later, had unfortunately come to a halt.
These were very difficult times for Carlo but, as with all difficult and turning times, also rather prolific: his interests diversified and his passion for peonies, their cultivation and harvesting processes took a serious and very important turn, and it is precisely about this Carlo Confidati: the greatest "peoniophile" and "peoniologist" of our times, that I wish to speak about. His contribution, in the whole world and not only in Italy, was absolutely fundamental for the knowledge of ancient and modern peonies of China, country where they are the most loved, reproduced and defended.
I remember how timidly but stubbornly Carlo began the collection in his garden in Bagnaia, among large pine trees. Later it was at the Vitorchiano nursery, that eventually had become the famous Moutan Botanical Center.
We were in the early nineties and Carlo spotted and imported directly from China some species and varieties of peonies that had never been seen before in our area, and not even in any botanical magazine.
The long-lasting friendship with Gian Lupo Osti, and through him with the International Dendrology Society, proved fundamental: they were carrying on the same battle, and in two gardens that were accidentally close to one another (Viterbo area and Bolsena Lake), where they were also assisted by Chinese researchers, and there is no doubt that they won the battle!
It's incredible how much the perception of this flower has changed in Italy since then, especially with the tree peonies: it's thanks to Carlo and Gian Lupo if, from its rare and sophisticated presence, let's say within the boundaries of villas or lounges, peonies have now become very common, almost as country plants.
Carlo's Moutan Botanical Centre I believe houses today the rarest and richest collection in the world, it is open to the public since 2003 and attracts plenty of visitors. Set among olive trees, oaks and cypresses, it covers about fifteen hectares with over six hundred varieties and hybrids.
Undoubtedly all the attention goes to the rocki peonies, and their many prestigious varieties.
Even before reaching these numbers, the garden in Vitorchiano, famous throughout Europe, had become a fundamental reference point for researchers, scholars and nurseries, with its rigorously scientific publications and catalogues, that were also bearing precious practical information that were the result of authentic and enlightened gardeners' practice.
As it often happened in Italy and even more so today, such uniqueness is the result of dedication, passion and continuous support that only a private individual can ensure.
In the meantime his children, and practically the whole family, has created another brand that was meant to become famous, the Ethimo that we all know for the quality of the design and the workmanship of its ideas.
Together with the nursery, which continued to grow (and obviously to influence the people around him with its sublime beauty), Ethimo was the result of a due and physiological outbreak of generosity, creativity and vivid positive energies.
Here, in the garden of Bramafam, every year there is a pale pink, semi-double peony that blooms without any special care, quirks or whims, and unfortunately also without its original the label with the name. It was one of the many plants given to me by Carlo: and when it suddenly blooms, around the beginning of April, it reminds me of a whole epoch of my life, indeed of our lives, of Carlo and Sara, of their family and mine, epoch that was dominated by enthusiasm, by the prolificacy of ideas and programs and also by an energetic and lively concreteness.
It could be an interesting story, the grounds are all there. Starting from the intricate plot: and at that point peonies, with their beauty, would not only be the expression of an ephemeral and short-lived flowering...".