Visiting the garden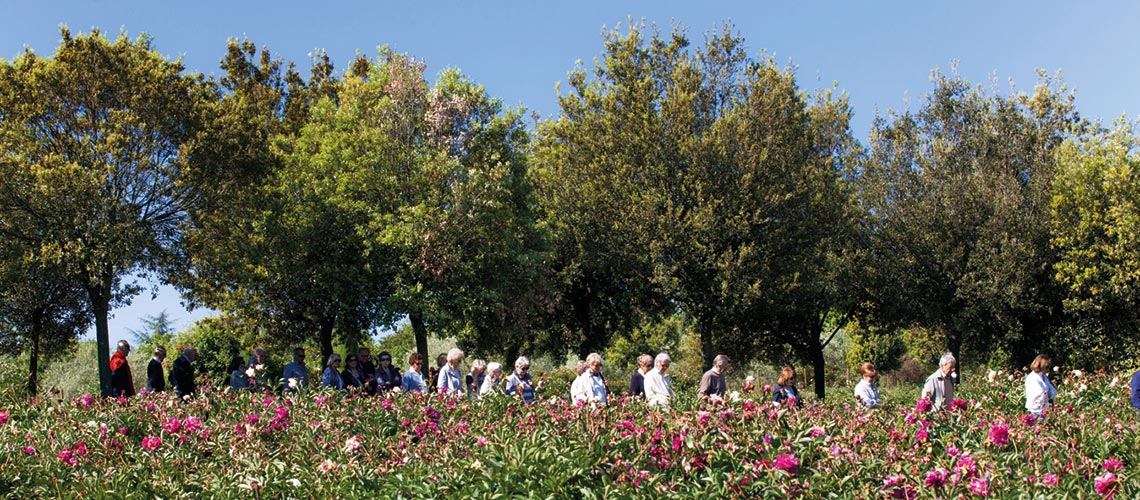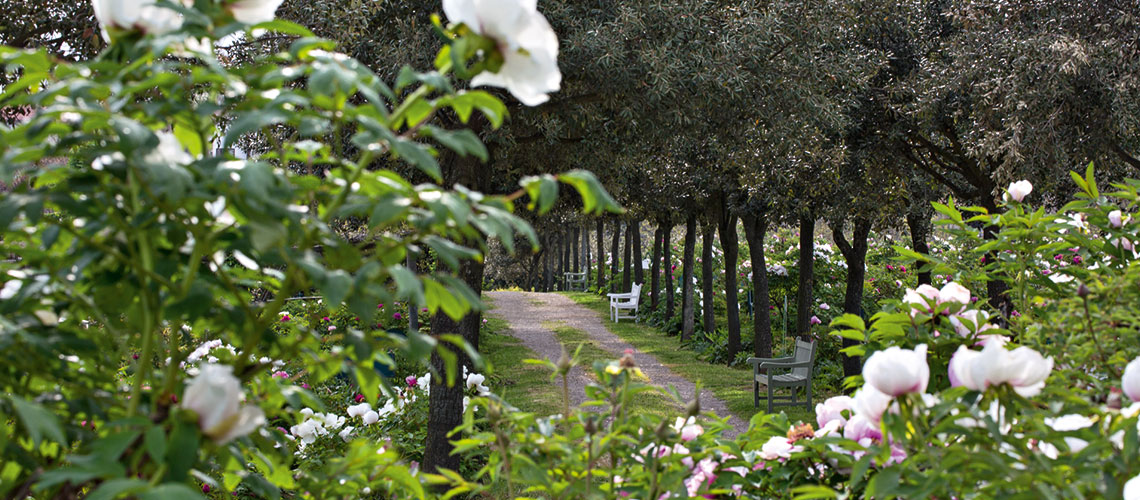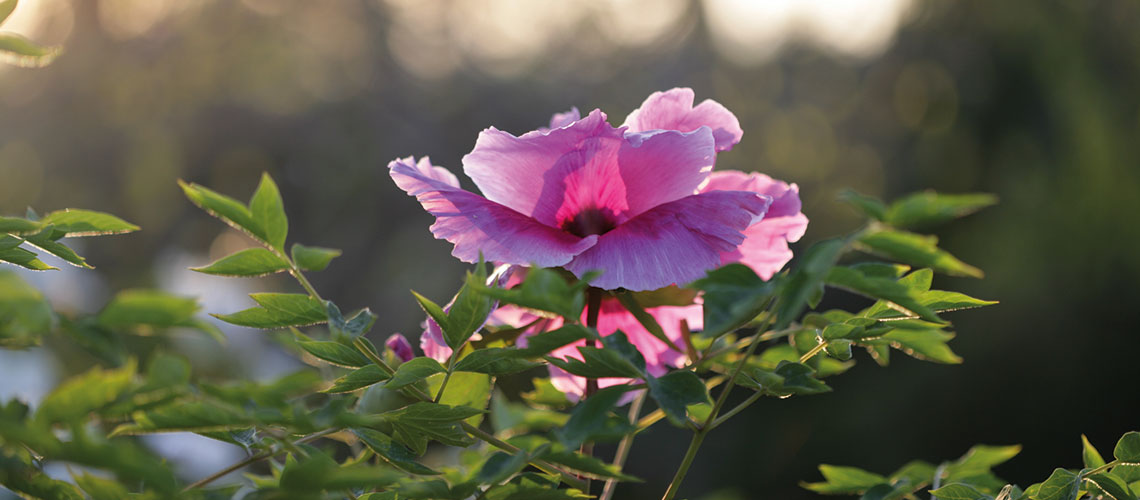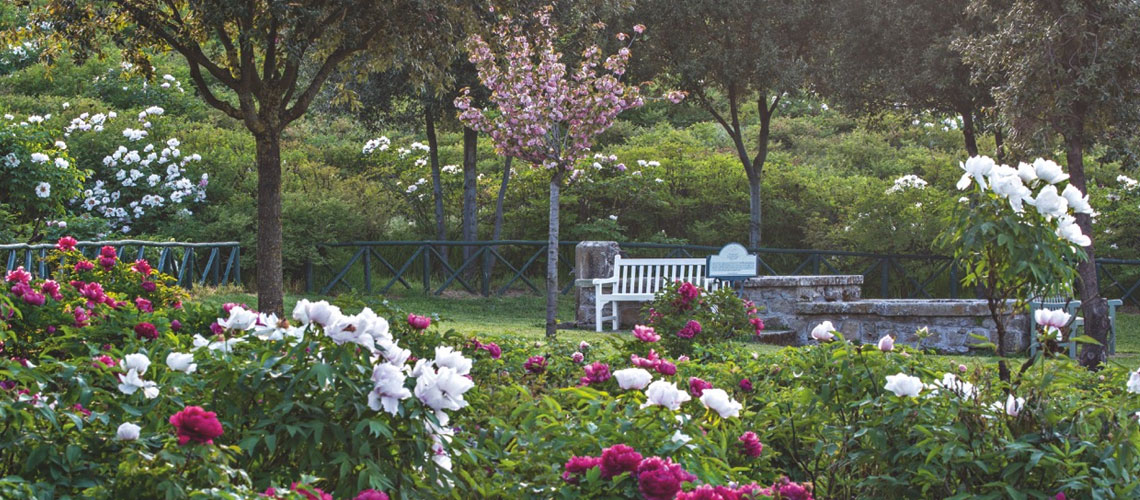 Flowering time for peonies occurs in the space of about two months, more or less as follows:
Single flower tree peonies are the first to bloom together with the semi-double flower tree shrubs, which flower from early April to mid April. This is followed by the double-flower tree peonies and, when this finishes flowering at around late April, the peonies belonging to the species P. rockii begin to bloom. Flowering of the Rocki peonies ends by the first half of May. At the same time, the delavayane peonies flower. Early May also sees the beginning of flowering for herbaceous peonies.


Peony flowering time coincides with that of the viburnum, prunus, wisteria and climbing rose, making for lots of striking areas to visit in our garden.


Blooming Season 2019
OPENING WEEKEND April 6th and 7th
Saturday April 6th
To celebrate the new blooming seasn, during this week-end only, free guided tours will take place in Italian and English. (Reservation required).
The visits are scheduled for 10,30 AM / 11,45 AM / 4,00 PM
From 12.00: "Brunch in the garden". Enjoying a lunch in the garden, pampered by the colours and the sounds of nature.
At the Colour Café, only for the Grand Opening, you can enjoy our "Brunch" with the best of our culinary selection. Costs: 18,00 € for adults and 12,00€ for children till age of 9. Reservation suggested.
Sunday April 7th
It will be possible to take part to free guided tours in Italian and English. (Reservation required).
The visits are scheduled for 10,30 AM / 11,45 AM / 4,00 PM
Only during this week-end all visitors will receive a free entrance ticket to come by again and enjoy the bloomings that will come in succession in the following weeks.
Tickets
Admission costs for the blooming season of 2019:
€ 5.00 full price;
€ 3.00 reduced price (children from the age of 10 to 16; senior over 65; disabled and their caretakers);
€ 4,00 for groups of more that 15 participants with full tickets
Free for children under the age of 10.
Ticket include participation to events with a botanical theme that will take place at the gardewn during the Blooming Season 2019, for which an additional charge is not required.
Theme events in collaboration with "Verdi e Contenti"
During the weekend of April and May we will organize botanical themed evets in collaboration with Chiara Brunori - Verdi e Contenti. The ticket will include the participation to all events scheduled on the day, except those for which a supplement is required.
Find out more about this blooming season: Programme 2019
WEEKEND OF APRIL 13 AND 14: In the garden with our children - Growing little green thumbs
guided tours available upon reservation or upon request directly at the ticket booth
Creative labs for the little ones, together with Martina Cioccio, "Mamma Green" and Garden Designer.
11:30 AM Laboratory narrated. We learn through our senses and imaginary stories to recognize aromatic herbs, often friends to insects that are good for gardens
3:45 PM Growing little seeds. Learn by playing how to recognize the different type of seeds and enjoy planting them.
Dogs
Dogs are admitted as long as they are kept on a lead and have dog poop bags. Owners are liable for damage caused by their dogs to people or property.

Golf cart service
The gardens can be visited by electrical golf cart, upon specific request by e-mail to info@peoniecinesi.it

Guided tours
Those who wish to deepen their knowledge of peonies can book a guided tour. The cost of the tour is € 20.00 for groups of up to 20 people. The guided tour takes about 40 minutes and has to be booked in advance. ( +39.0761.300490 - cell ph. +39 348 76 17155 - info@peoniecinesi.it)

Groups
For group visits, a booking is recommended with tour guide.
Contacts: +39.0761.300490 - cell ph. +39 348 76 17155
e-mail: info@peoniecinesi.it
Parking for buses
Special parking is available for buses along the Ortana road. Directions
The centre is situated in Vitorchiano-Pallone, Province of Viterbo
Click here to get the directions:

Parking
The Centre offers a large car park close to the entrance, free and unsupervised.

Colour Café
During the blooming season, inside the Moutan Botanical Centre you will find some refreshment areas for a light lunch rich in authentic flavours of our territory.
For information contact: - info@peoniecinesi.it - +39 348 76 17155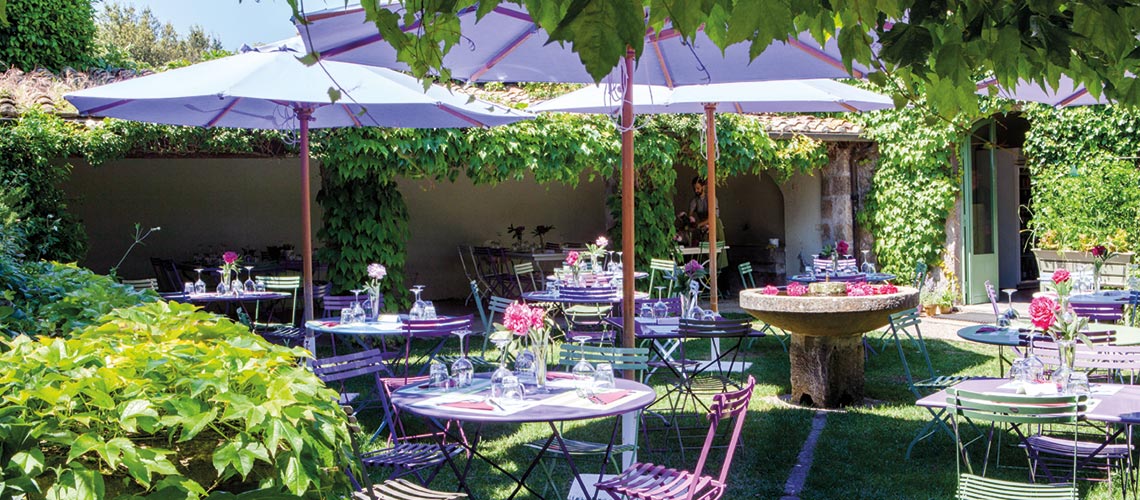 Regulations
The park is open to visitors everyday from 9.30am to 6pm
Visitors to the Centro Botanico Moutan, at the time of ticket purchase, expressly accepts the general conditions that govern admission to the Gardens and the use of the services on offer.
No picnics allowed in the Gardens.
Dogs allowed if kept on a lead.
Taking photographs or video recordings for professional use is not permitted without prior authorisation from management to be requested via e-mail from info@peoniecinesi.it
Visitors are asked to dispose of rubbish in the bins provided.
Visitors are asked to stay on the pathways indicated and not to enter between the rows of plants.
Visitors are asked not to pick flowers or damage the plants.
The car park is free and unsupervised.
Visitors, particularly children, are asked not to climb trees, run or engage in dangerous play.
Children should be supervised at all times, with parents being liable for any damage caused to Centro Botanico Moutan plants or property.
The Centro Botanico Moutan declines all liability for any valuables that go missing inside the Park, it also declines liability for accidents that may cause damage.
In the event of hazardous weather, the Management reserves the right to close the Park at any time, without refunding visitors.
Park staff is authorised to check that all rules of conduct in these regulations are observed and reserves the right to deny admission to or remove from the Park without any refund any visitors that behave in a way that is improper and/or dangerous to themselves and others.